Is your shoulder pain limiting your quality of life?
Looking for ways to self massage your shoulder pain away?
Before doing any of these techniques, make sure to check with your healthcare provider that these are appropriate for your specific shoulder condition. If in doubt, ask us! We can help.
We are more than neck and back pain doctors. We treat shoulders too. That is the Drummond Difference.
Self Massage Tips For Shoulder Pain:
You may find tender, bumpy spots along the ropey muscles in the front of your neck (SCM, anterior scalenes), or along the posterior neck muscles or the upper back (trapezius muscle and levator scapulae muscles) in addition to your shoulder and upper arm.
If you have shoulder pain, don't forget to check for tender spots in and around your armpit! When you find one of these spots, lightly press on it to see if it increases your head pain. If pressing on the spot increases your shoulder pain, it is likely the cause of your shoulder pain.
Showing the latissimus dorsi muscle that can have trigger points that cause shoulder pain.
Don't forget to work on tender points in the armpit!
To treat these points, hold the pressure for three breaths. This helps squeeze out the metabolic waste trapped in the chronically contracted muscle. When you let go, new blood will flow into the muscle, bringing in nutrients and allowing the muscle to relax and take pressure off the nerve or blood vessels that are referring pain into your shoulder.
If the muscle is still tight and sore, you can repeat this up to three times, several times a day.
Massaging the muscles of the forearm may also help your shoulder pain. It is always a good idea to massage above and below the area of pain. So massaging the neck, upper back and forearms should help your shoulder pain.
You may experience immediate relief from your shoulder pain after working on such pressure points. Sometimes, it may take a couple of days before you notice the improvement.

Home Massage Tools
Many devices at a wide range of price points are available to help you self-massage. I prefer vibrating massage tools with a long handle to make reaching the back of the neck and upper back easier. Tight muscles of the neck and upper back are often the source of pain in the arm and hands (as they pinch the nerves supplying the arms and hands). So don't forget to massage the neck and upper back as well as your arm and hand muscles! Such vibrating massage tools run from as little as $30 to hundreds of dollars.
I also recommend tools like the Thera Cane and Body Back Buddy (Figure). They help you press on trigger points in the back of your torso and neck while keeping your arms down, which allows the upper back muscles to stay relaxed.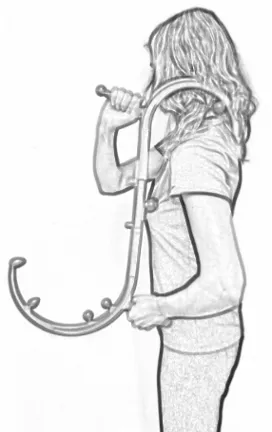 But no self-massage is better than a professional body work. If you suffer from arm, elbow, hand or finger pain, consider treating yourself to regular professional body work. I personally regularly receive chiropractic care because I have a physical job being a chiropractor. If you sit at a computer all day, it is important to stretch regularly and treat yourself to some form of body work at least once a month as well.
Again, if your shoulder pain is not responding to your self treatments, or if it is worsening in any way, see your healthcare provider. Hopefully that is one of us here at Drummond Chiropractic.

Again, You Do Not Have To Suffer With Shoulder Pain Or Stiffness.
We can help!
Why Wait?
Do you have muscle pain?
Rapid Release Melts Muscle Tension Painlessly!!!
Rapid Release Technology, also known as RRT, uses painless, high-speed vibrations to melt scar tissue or adhesions found in spastic muscles and tender fascia. When your body heals itself, it forms adhesions. Adhesions are stiff, ropey fibers that pull on healthy tissues. They can also impair blood flow, pinch nerves and impair lymphatic drainage. Because adhesions seriously impair the body's ability to function well, they must be broken up. We use the Rapid Release Technology because it feels good and does not hurt, compared with the pounding action of slower devices or the scraping action of contoured tools.
Why wait?
to schedule with us.
Dr. Karen and Dr. Mandy are true professionals, who genuinely care about their patients. They are very personable and engaging with their patients. I would recommend her for any of your chiropractic needs. I have had various needs for my back and shoulders - they have always provided me relief. That are truly the best!
We will get to the root cause of your shoulder pain, so when we treat it, it will not only feel better but be less likely to return. All the chiropractors at Drummond Chiropractic are shoulder experts. Once of us should be able to see you today!
Dry Needling (link above), Graston, Dynamic Tape, etc.
Let's free up your shoulder, so you can get back to pain free living!
Be able to lift your children, grand children, and/or fur babies without pain.
Play golf, basketball, tennis, any sport better than ever.
Be able to reach up and hug some one with a smile instead of a grimace.
We love getting our patients feeling better in the new decade than they did in the past.
Here is to a healthier and happier you!
Why Wait?
You may be surprised to find out that your shoulder pain is a symptom of a nerve being pinched in your neck, lymphatic back up, tendonosis of an arm muscle, or maybe it is caused by something wrong with your shoulder. Regardless of the cause of your shoulder pain, we will find it with a thorough history and exam, then determine the best treatment plan for it, even if it means referring you out. We are more affordable than orthopedic surgeons and physical therapists, so start with us, and if able, we will get you back on your feet as soon as possible.

Dr. Michael McCoy is more than a spine specialist as a chiropractor, but also a joint (including shoulder pain) specialist. He not only will work on your shoulder, but any issue that may be contributing to your shoulder condition. He can train you on how to restrengthen your body so that your shoulder is less vulnerable to re-injury.
Once we determine that we can help your shoulder pain, we will treat same day, demonstrate home exercises and stretches you can do to speed your recovery.
We will follow up the appointment with a Report of Findings email that details what your condition is, what our treatment plan is and lists the prescribed exercises and stretches, complete with videos that you can follow along with. To learn more, check out:
Why Wait?
All of our chiropractors specialize in shoulder pain.
FOR MORE INFORMATION CHECK OUT DR. KARIN'S BOOKS
To learn more about how we treat here at Drummond Chiropractic, CLICK HERE.
To go back to our home page, CLICK HERE.
Drummond Chiropractic, LLC
Your Downtown Shoulder Pain Specialists
565 N Walnut St,
Bloomington, IN 47404
(812)336-2423