Do your feet hurt? Orthotics may help!
Orthotics are a great way to help with foot pain. They can help to realign the bones in the foot and ankle, making every step painless as you will feel like you are walking on air. Even your knees and back will feel better!
We will get to the root cause of your foot pain, so when we treat it, it will not only feel better but be less likely to return. The only way to know if orthotics can help your foot pain is to have your feet examined and scanned.
We offer FREE foot scans!
Why wait?

to schedule your FREE foot scan today!


How Do Orthotics Work?
Custom foot orthotics are specially-­made devices that fit inside most shoes. They match the contours of your feet precisely, and are designed for the way you move.
Orthotics can help anyone with discomfort relating to walking, or imbalances in the body that are known to cause related pain. If your feet are in pain, orthotics can help. Again, your feet are the foundation on which you stand. If your foundation is crooked, this stresses more than just your feet, but can cause knee, hip, low back, and neck pain.
Orthotics have even been known to help with tension headaches!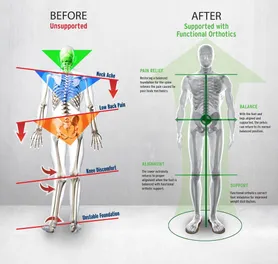 Can you see how unsupported feet can lead to more than just foot pain. We have had patients report that even their headaches improve with wearing their custom orthotics. Custom orthotics can be prescribed by any chiropractor at Drummond Chiropractic, as we all have had the extra specialized training required.

Our custom orthotics last well over a year in most cases, and many even longer. But our feet constantly change over time, so you should be re-scanned every 2-5 years to monitor your feet so we can determine if your prescription has changed and order new orthotics accordingly.
A tremendous benefit of custom orthotics is that they can be worn on a daily basis and utilized during most activities. While over­-the-­counter shoe inserts are available at most drugstores, they lack the custom­-built precision of a prescription orthotic. These 'one­-size-­fits­-all' inserts rarely match your feet well, or provide the customized support you need.
Interested in incorporating orthotics into your treatment plan? Contact us, your trusted chiropractor, and schedule an appointment to discuss how custom orthotics might ease your discomfort.
Do you need orthotics?
Here are the Five Red Flags Of Over-pronation
Over-pronation is when your toes point away from the center of your body. Instead of pointing straight ahead, your feet turn out over seven degrees.
Signs that your feet over-pronate include:
1. Your foot flares while walking:
2. Your knees turn in:

3. Your Achilles tendons bow so that your heels point outward:
4. Your feet are flat:
5. Your shoes wear out unevenly:
The Consequences Of Over-Pronation
Oftentimes, a person stresses one foot more than another because they favor one leg. This results in one foot collapsing faster than the other. When this happens, every time a person stands, walks, or does any activity on their feet, the very foundation that they are standing on is imbalanced. It's like walking on a slope that always tilts the pelvis the same way. This causes a greater strain on the hips, pelvis, and back
All of our chiropractors are experts of the musculoskeletal system, including the feet. We find and treat for the root cause of the pain, not a temporary relief like pain relievers. You may be surprised to learn your foot pain may be from something simple like wearing the wrong type of shoes for your feet, or even the wrong sized shoe. It maybe some other health condition that is expressing itself as foot pain. It may be a structural imbalance in your foot that needs orthotics to correct. Regardless of the cause of your foot pain, our goal is to find it and correct it.
Bonus: we can bill insurance.
If you are experiencing heel pain, schedule an appointment with us today. The sooner you get treatment, the sooner you can walk without pain. With one of our experienced chiropractors on staff, we should be able to schedule in today. Click Here to schedule with us and start your journey to pain free feet.
Types of orthotics:
Dr. Karin's favorite:
Best support, cushion and durability. But they are very thick and do not fit all shoe types.
Our Most Popular orthotic:
Our inMotion has the best support with the least amount of thickness.
Our best orthotic for athletes
Other orthotics:
Unsupported Flat Feet Can Lead to Plantar Fasciitis
Plantar fasciitis occurs when the tissue that connects the heel to the toes becomes inflamed. This inflammation causes pain on the bottom of the heel that can continue to grow in intensity over time.
Risk factors for plantar fasciitis include:
Flat feet
Collapsing High arches
Non­-supportive shoes
Inappropriate shoes (too small)
High Heels
Obesity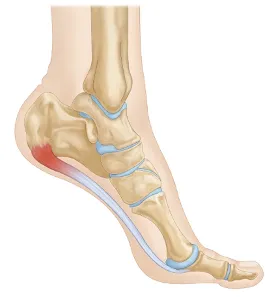 Figure 5‑1: The plantar fascia.
Collapsed arches strain the plantar fascia (the tissue on the bottom of the foot) more than any other tissue in the feet because the plantar fascia stretches every times one makes an unsupported step which causes the arches to collapse. This collapse causes every step to irritate the plantar fascia, which can lead to inflammation of the fascia and foot pain. Plantar fasciitis is inflammation of the plantar fascia. Like any inflamed tissue, it is very tender when moved. It's like having tennis elbow of the foot. However, unlike the elbow, the foot is weight bearing, so just standing irritates the tissue.
To make matters worse, the plantar fascia is the most distal tissue of the body; it is the furthest tissues to supply blood to and drain waste from. This is worsened with the fact that the plantar fascia is squished by the weight of our entire body. This squishes the nutrient rich blood out and impairs the flow of the lymph that drains the toxic metabolic waste out of the foot. Remember, metabolic waste is lactic acid, which BURNS. Marry this with inflammation caused by constantly being pulled on from the collapsing arches with every step. Inflammation causes the tissues to swell and fester with pain causing inflammatory proteins. Inflammatory proteins and lactic acid lead to a terrible sensation of pain. Hopefully this helps clarify why this is such a painful condition!
Because we stand and walk on our feet so much, it is difficult to treat and recover from plantar fasciitis.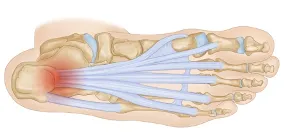 Figure 5‑2: Heel pain can be caused by inflamed tissue anchored to it.
Every time your foot hits the ground, the weight of your body compresses the tissues in the heel, squishing out the needed nutrients. Plus, the momentum of the movement causes the arch to strain or sprain. With every step, the ligaments and tendons pull on the bones they are anchored to. This is why people develop more pain with walking (unlike other conditions that are alleviated by walking).
Eventually, walking can inflame the tendons and ligaments to the point that your feet hurt all the time, not just when you walk.
If the foot remains swollen with inflammatory proteins, often the first step is very painful (just like other conditions) and worsens with every step (unlike other conditions).
Treating Plantar Fasciitis
If you suffer from plantar fasciitis, you can recover, but treatment is necessary.
See a healthcare provider to confirm that you have plantar fasciitis. If you do, you need to support the plantar fascia with orthotics.
To learn more about orthotics and foot pain, check out Dr. Karin's "Combat Foot Pain" book on amazon, CLICK HERE
CLICK HERE for more about treating foot pain.

Why wait?

to schedule your FREE FOOT SCAN with us.

Chiropractors who are more than neck and back pain specialists.
We Are Also Foot Specialists
565 N Walnut St
Bloomington, IN 47404
(812) 336 - 2423
Drummond Chiropractic, LLC
565 N Walnut St,
Bloomington, IN 47404
(812)336-2423