What is Carpal Tunnel Syndrome?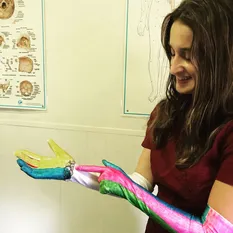 See the yellow region drawn in the picture to the left? If you have tingling or pain in this region, you may have carpal tunnel syndrome. If it is not in this region, then you most likely don't.
Carpal Tunnel Syndrome is when the nerve that supplies the first three fingers and the thumb of the hand gets pinched by the bones and ligaments in the wrist.
Specifically, this nerve is the median nerve. The median nerve delivers the sensations from the skin of the thumb, index finger, middle finger and some of the ring finger just on the palmar side of the hand.
If you have any tingling or pain in this region (colored yellow in the picture on the left), then you may have carpal tunnel.
If your symptoms are on the pinky side or the back of the hand, you do not likely have carpal tunnel because the median nerve does not supply these regions of the hand.
The median nerve goes between the bones of the wrist (called carpal bones) and ligaments that hold these bones together. That is why Carpal Tunnel Syndrome has it's name. The carpal bones and ligaments have a tunnel that the nerve goes through. If this tunnel is narrowed or blocked, the nerve gets "pinched", causes the symptoms of Carpal Tunnel Syndrome.
The number one cause of carpal tunnel is repetitive aberrant use, This includes (but is not limited to) poor work ergonomics. Check out the top 25 tips to confirm you have good work ergonomics:
Did you know other conditions can mimic Carpal Tunnel Syndrome?
This nerve goes from the thumb and first three finger tips all the way through the carpal tunnel, through the forearm, through the upper arm, upper back, neck, up the spinal cord to the brain. See all the places it can get "pinched". You can have a tight muscle in any of these areas, and you will have symptoms that mimic carpal tunnel syndrome. This is why a NCV test is often prescribed, to determine exactly where the pinched nerve is. You don't want to have carpal tunnel surgery if the problem is not in your wrist!
Why you want to exhaust all natural remedies for carpal tunnel syndrome before doing carpal tunnel surgery:
Carpal tunnel surgery works by cutting the ligament that makes the floor of the carpal tunnel. This makes more room for the nerve. But this also weakens the wrist, because it cuts the ligament that holds the bones together. This is why this surgery should be used only as a last resort.
Natural remedies for carpal tunnel:
CBD TAPE FOR WRIST PAIN
CBD tape can help wrist pain and facilitate healing.
KT TAPE CAN HELP IF YOUR WRIST IS SWOLLEN
Learn more about KT Tape here: https://www.kttape.com/pages/h...
IF YOU HAVE carpal tunnel, WE CAN HELP
If you are you in Bloomington, Indiana and looking for a "chiropractor near me" for your wrist pain, we may be the chiropractors you have been looking for. We have multiple chiropractors, all of whom are experienced with treatment wrists and hand picked by Dr. Karin Drummond, the owner of Drummond Chiropractic.
We are conveniently located downtown Bloomington, IN with a parking lot, so you don't have to worry about finding parking nearby. We accept most insurance. We are open early and often stay later than advertised, to accommodate those who can't miss work. We even come in Saturdays by appointment.
Stretching the neck, shoulders, forearms and wrists helps take pressure off the median nerve and helps open up the carpal tunnel.
TIPS ON HOW TO SELF MASSAGE carpal tunnel AWAY:
Remember, the nerve that is pinched by the carpal tunnel can be pinched at the wrist, forearm, upper back and or the neck. That is why if you suffer from carpal tunnel, you have to stretch more than your wrist:
CLICK HERE FOR MORE HAND, WRIST AND FINGER STRETCHES
CLICK HERE FOR SHOULDER STRETCHES
Proper position of the wrist and hand
to prevent carpal tunnel
To ensure your wrist is in a neutral position, make sure the bottom of your wrist is flat.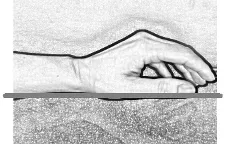 The top of the hand will look like it is tilting up, but if you flatten the top part of your hand, you will compress the carpal tunnel,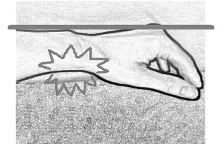 causing irritation of the median nerve, which can result in carpal tunnel syndrome (pain and numbness in the palmar aspect of the wrist, thumb, and index and middle fingers).
Place your keyboard and mouse at the proper height. Your mouse and keyboard need to be at a height that allows your lower arms to be parallel to the floor. A good chair will have an adjustable height so you can make the adjustments needed for correct arm and leg positions. A good standing desk will have an adjustable height to allow for correct arm positioning.
CLICK HERE FOR MORE ADVISE ON POSTURE AND WORK ERGONOMICS
WRIST BRACE WHILE SLEEPING MAY HELP WITH your carpal tunnel
Picture source:https://www.amazon.com/Night-W...
Do you sleep with your hands curled up in a bent position? Did you know this can cause a compressional force in your wrists, which could be the root cause of your carpal tunnel? If you sleep with your wrists bent, try wearing a carpal tunnel wrist brace to hold your wrists at neutral while you sleep. You may even need to wear it throughout the day. Something to talk to your healthcare provider (hopefully one of our chiropractors here at Drummond Chiropractic).

How chiropractic helps carpal tunnel?
Not all chiropractors work on extremities like the wrists. Dr. Michael McCoy is more than a spine specialist as a chiropractor, but also a joint (including wrist, hand and finger pain) specialist. Dr. McCoy can determine if you do indeed have carpal tunnel syndrome, or if a different condition is mimicking carpal tunnel syndrome. He not only will work on your wrist, hand or finger, but any issue that may be contributing to your condition. He can train you on how to restrengthen and stretch your arm, hand and fingers so you are less vulnerable to re-occurrence.
Once we determine that we can help your wrist/hand condition, we will treat same day (unless contra-indicated), demonstrate home exercises and stretches you can do to speed your recovery.
What one way of adjusting the wrist looks like:
Dr. McCoy showing one way he can adjust the wrist and free up the carpal tunnel on TikTok. We will follow up the appointment with a Report of Findings email that details what your condition is, what our treatment plan is and lists the prescribed exercises and stretches, complete with videos that you can follow along with.
You don't have to be in pain. We can help! Why Wait?
CLICK HERE TO SCHEDULE WITH US ONLINE
To learn more about what we will e-mail you following your visit with us, check out:
More videos:
You don't have to be in pain. We can help! Why Wait?
CLICK HERE TO SCHEDULE WITH US ONLINE
Drummond Chiropractic, LLC
Carpal Tunnel Syndrome Specialists
565 N Walnut St
Bloomington, IN 47404
(812) 336 - 2423