We offer supplements both in our clinic and online.
Partnering with Full Script
Wondering how you are going to decide which supplement to buy? There are so many out there! Many with deceiving labels. If you want a shorter list to sort through, with supplements that Dr. Karin has approved of, check out: Full Script Link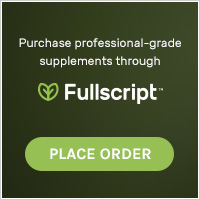 Better yet, do you want one of us to check out the supplements you already have, and help you decide what to start taking, continue taking, and more importantly STOP taking?
Why Wait? Click HERE to Schedule!
We have early morning, evening and weekend hours!
Supplements available in our clinic:
CBD products:
Colostrum Products:
Formula 303



Drummond Chiropractic, LLC
Your Downtown Nutritional Specialist Chiropractors
565 North Walnut Street,
Bloomington, IN 47404
(812)336-2423