All of our chiropractors are neck and back pain specialists, But, if you are looking for a female chiropractor who specializes in pregnancy and prenatal care, Dr. Mandi McCoy is the chiropractor you have been looking for.
Dr. Mandi loves treating patients of all ages, but her passion lies with treating the pregnant and pediatric population. She believes that pregnancy should be an amazing time in a woman's life and wants to help be as pain free and wonderful as possible. She also loves treating children and helping them grow into happy, healthy adults.
Dr. Mandi loves not only helping get patients out of pain, but being able to teach them how to maintain that state through exercises and lifestyle changes. Her goal is be able to accomplish this with as few visits as possible and to teach her patients how to maintain that state on their own.
Dr. Mandi is also known for her jaw and migraine treatments.

Bonus, we accept most insurance at Drummond Chiropractic. CLICK HERE for a list of insurance we accept.
Certifications:
Webster Technique (A specific technique for pregnant patient's that focuses on getting their joints, muscles and ligaments prepared for child birth)
Member of the ICPA (International Chiropractic Pediatric Association).
Dr. Mandi's Google Testimonials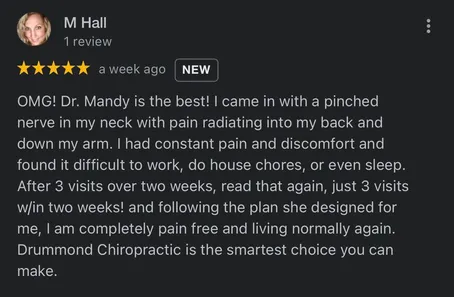 To learn more about how we treat here at Drummond Chiropractic, CLICK HERE.
To go back to our home page, CLICK HERE.
Dr. Mandi's Biography
On a personal note, Dr. Mandi McCoy was born and raised in the small farming town of Pinckneyville, IL. She played softball in college for three years before graduating from Southern Illinois University-Carbondale with a degree in Biology. She then attended Logan University College in St. Louis, MO where she obtained her Doctorate in Chiropractic and Master's in Sports Science and Rehabilitation.
She joined Drummond Chiropractic at the beginning of 2020. She loves babies, and joined Drummond Chiropractic because they have a supportive team and offered good maternity leave. Had her first baby in January of 2021 and is now pregnant with her second. She made weekly videos of her progress to help educate other pregnant women what to expect during the different stages of pregnancy.
She then made videos on the milestones to watch for your little ones.
Bonus, we accept most insurance. We are conveniently located downtown Bloomington and have our own parking lot (so you do not have to worry about finding parking or walking any distance). We have friendly staff who is looking forward to your call. We hope this helps you choose Dr. Mandi for your chiropractic needs.
Click here to learn more about chiropractic pregnancy and pediatric care.
Drummond Chiropractic, LLC
Your Pediatric and Pregnancy Chiropractor
565 North Walnut Street,
Bloomington, IN 47404
(812)336-2423