Can't raise your arm above your shoulder? A chiropractor can find out the root cause of your shoulder restriction and treat it. If you have been diagnosed with shoulder pain, then keep reading for tips on home remedies. As with any health advice, confirm that the following is applicable for you and your specific health care needs with your healthcare provider.
WHAT IS THE ROTATOR CUFF OF THE SHOULDER?
The rotator cuff includes the muscles on the back of the shoulder blade (the scapula) that keep the ball of your shoulder (the head of the humerus bone) in the shallow socket of your shoulder, and stabilize the shoulder during all movements. The muscles of the rotator cuff more specifically assists in lifting your arm up (abduction), turning your arm inward (medial rotation) and outward (lateral rotation).
HOW IS ROTATOR CUFF Injury DIAGNOSED?
Simple orthopedic exams can confirm your pain is due to a rotator cuff injury and not other conditions like frozen shoulder.
If there is injury to the rotator cuff, actively moving your shoulder becomes painful, as it hurts to contract torn muscles. If small movements of your arm hurts are shoulder yet you can move your arm passively (someone else can move your arm for you) with minimal to no pain, chances are, you have injury to your rotator cuff.
HOW IS ROTATOR CUFF INJURY TREATED?
We have great success with Dynamic Tape (which helps stabilize the shoulder) and Graston therapy (which breaks up the adhesions around the shoulder). We also show you how to stretch and strengthen your shoulder between visits to speed your recovery.
Once the the shoulder is healed, then more intense stretching and strengthening program will be designed help keep the benefits of your treatments and so that it will be less likely for your shoulder to be injured in the future.
HOW MANY TREATMENTS DOES ROTATOR CUFF INJURy TAKE TO TREAT?
With rotator cuff injuries, one of the limiting factors is how fast your tissue repairs. To speed your recovery, supplements may be suggested. Once most of the stability of the shoulder and painless range of motion has been achieved, then we start spacing out treatments as you will be well versed on how keep the benefits of your treatments.
Are you taking Pain Pills?
Pain is the way your body warns you when you move in a way the worsens your injury. Can you see how taking pain pills can make your injury worse? At best, pain pills do not fix the problem. Worse, pain pills are harmful to your health. Instead, talk to your chiropractor about using a TENs unit for your pain.
CLICK HERE to learn more, or watch:
Heat/Ice can help reduce pain and facilitate healing:
TOPICAL CREAMS AND OILS THAT CAN HELP WITH SHOULDER PAIN
CRYODERM
Cryoderm is a formula designed not only to alleviate pain, but it's ingredients also facilitate healing. Cryoderm is available in a spray, gel and roll-on. For shoulder pain, the roll-on application preferred because the roll-on can be used the physically massage the region during the application process. If you have the spray bottle, be careful not to overspray on to the face, especially cautious to avoid any over spray into the eyes, as it will burn terribly. CLICK HERE to learn more about Cryoderm.
SUPPLEMENTS, HERBS AND OILS THAT CAN HELP SHOULDER PAIN:
Or Ask Us About Dynamic Tape for Shoulder Stability (great for rotator cuff injuries).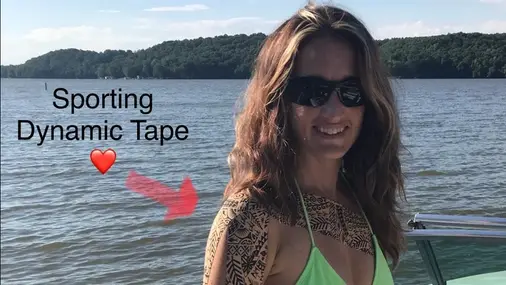 Athletes love dynamic tape because it allows them to participate in the sports, even water sports, by supporting their shoulder during their active lifestyle. Ask us of dynamic tape can help speed the recovery of your shoulder condition.
Once the shoulder injury has stabilized, and is healed enough to start stretching and strengthening, we will prescribe specific stretches and exercises for your specific shoulder needs to make it less likely for the injury to re-occur. It is important for your shoulder to become stronger and flexible enough to withstand the stresses of daily use with out injury.
For a sneak peak of the common stretches and exercises we prescribe, check out our YouTube video:
To learn more, check out: https://drummondchiropractic.c...
If you are you in Bloomington, Indiana and looking for a "chiropractor near me", we may be the chiropractors you have been looking for. We have multiple chiropractors, all of whom are experienced and hand picked by Dr. Karin Drummond, the owner of Drummond Chiropractic.
We are conveniently located downtown Bloomington, IN with a parking lot, so you don't have to worry about finding parking nearby. We accept most insurance. We are open early and often stay later than advertised, to accommodate those who can't miss work. We even come in Saturdays by appointment.
You don't have to be in pain. Why wait?
to schedule an appointment.
CLICK HERE FOR MORE CONDITIONS WE TREAT
TO BE WELL YOU NEED TO
MOVE WELL, SLEEP WELL AND EAT WELL
Want to see what else we would advise for you?
Why wait?
FOR MORE INFORMATION CHECK OUT DR. KARIN'S BOOKS
To learn more about how we treat here at Drummond Chiropractic, CLICK HERE.
To go back to our home page, CLICK HERE.
Drummond Chiropractic, LLC
Shoulder Chiropractor Experts
565 N Walnut St
Bloomington, IN 47404
(812) 336 - 2423