We are bloomington, indiana's
ACE CHIROPRACTORs:
A
FFORDABLE,
C
ONVENIENT
AND
E
FFECTIVE
chiropractor
Affordable: We accept most insurance. We have reasonable fees. We offer payment same day discounts. We aim to get you well in as little visits as possible. We are not the cheapest (or the most expensive) but why pay for 12 cheap visits if we can get you better in 6? We are cheaper in the long run. We rarely need costly imaging. We usually do your first treatment during your first visit.
Convenient: With multiple chiropractors, we have long hours, offering morning, noon and evening hours. One of us should be able to see you the same day. You do not have to wait to get out of pain! We are easily accessible from both Tenth and Walnut street, right downtown Bloomington, with plenty of parking. We have been located in Bloomington, Indiana since 2000.
Effective Experts: We have multiple experienced chiropractors, each with their own unique specialties, one of which should be able to help you. If you are not getting the relief as expected, all chiropractors will put their heads together to come up with an even better treatment plan, or refer you to the best specialist for your specific needs. We've pooled our resources to be able to afford top-of-the-line equipment, some designed for speedy results, others designed to make the treatments more comfortable and gentle while still being effective. We cater your treatment to your specific needs and preferences. To find out how effect we are, check out our testimonials on Google, Facebook, Yelp and other sites.OUR PROMISE TO YOU:
To listen to you and treat you like the intelligent being you are
To give you the time you need
To get you well with the least amount of visits
To provide you with information that can speed your healing
To refer to other health care providers if needed
To objectively chart your progress, to verify the treatments are working as projected
Want to learn how we treat at Drummond Chiropractic?
CLICK HERE
Check us out on YouTube:
About Drummond Chiropractic and Our Team of Chiropractors
Like most chiropractors, every one of our chiropractors are known for our ability to treat neck and back pain, but each chiropractor prides themselves in doing it in as few treatments as possible. Plus each chiropractor will teach you how to prevent your pain from returning.
Did you know every chiropractor on our team are more than just spinal experts? Everyone of our chiropractors work on extremities (jaws, shoulders, feet, etc). If it is a joint or muscle, our team of chiropractors can likely fix it. We also have a pregnancy and pediatric chiropractor who specializes in treating babies and pregnant women. Plus with multiple experienced chiropractors, one of us can likely see you on a moments notice. We are all here for you.
All of our chiropractors have many years of experience, each with their own unique specialties. We keep on top of current research and new techniques. If you are not responding to treatments within a few visits, the entire Drummond Chiropractic expert team will get involved. Our mission is to ensure that when you walk in our door, you can be assured you will find the solutions you are looking for, and get the relief that you need.
Did you know we can help with other ailments too? Suffer from irritable bowels, fatigue, anxiety, or other health conditions? We strive to help you not just feel better but be better. A Drummond Chiropractor provides more than just pain relief, but wellness, so you can return to the activities you enjoy doing most.
Get back to playing golf with your buddies, getting down on the ground with your grand children, or cleaning your home without pain. A Drummond Chiropractor aims to help you reach your goals with chiropractic care, physical therapy, and so much more. We offer personalized chiropractic care with an integrative healing touch. We aim to be your partner in health, helping you understand your condition, and the imaging or lab tests you may need or already have.
If medical attention or surgery is required, the Drummond Chiropractic Team will hold your hand through that process. To help you decide which chiropractor to schedule with, you can meet the each chiropractor on our Facebook page where we have Facebook lives. Or check us out on YouTube by clicking the images below.
Experience the DRUMMOND CHIROPRACTOR DIFFERENCE:
OUR MISSION
For all to know that when you walk in our door, you can be assured you will find the solutions you are looking for, get the relief that you need and to teach you the tools to STAY WELL.
We want to let you know, we are here for you.

We Specialize In:
Jaw Pain, Jaw Clicking, Jaw Stiffness (TMD) -
Click Here to learn more...
and so much more! CLICK HERE to go to our conditions page.
Why Wait? Click HERE to Schedule!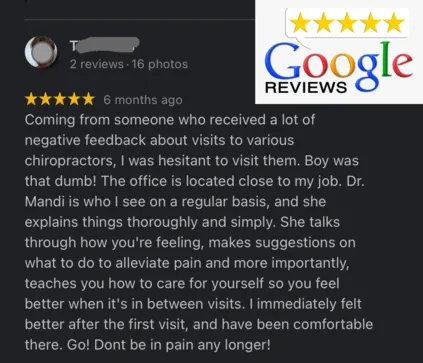 To learn more about how we treat here at Drummond Chiropractic, CLICK HERE.

To go back to our home page, CLICK HERE.
Drummond Chiropractic, LLC
Your Downtown Bloomington Chiropractor
565 North Walnut Street,
Bloomington, IN 47404
(812)336-2423